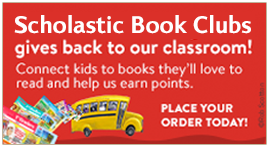 Approximately once a month I send home Scholastic Book Orders in Tuesday folders. These order flyers contain a wide variety of titles and genres geared toward students in 2nd grade. Participating in ordering is never required. As a classroom teacher, I sincerely value the role high quality books play in growing young minds, and Scholastic Book Clubs are an affordable option. Additionally, our class earns points for each order placed, which I use to purchase books for our classroom library that give back year after year.
Student orders can be sent in with a check made out to Scholastic Book Clubs. I collect all of the orders and mail them in once a month. Alternatively, families can easily order online at Scholastic Book Clubs. Orders placed online count towards our class order and will be delivered to school with the paper orders submitted directly to the teacher. When the books arrive, I send them home with the kids. The kids get SO excited when the red and white Scholastic box arrives! For more help, check out the video in this post to learn how you can submit your child's order online using your credit or debit card.
Need our class code? It is PB2FJ.
Shop the Flyers

2020-2021 Order Due Dates
Wednesday, September 30th ✔️
Friday, October 30th ✔️
Monday, November 30th ✔️
Friday, December 18th ✔️
Friday, January 29th ✔️
Friday, February 26th ✔️
Tuesday, March 30th ✔️
Friday, April 30th
Friday, May 28th
Get reminders for these due dates by subscribing to our classroom calendar and our Remind texts!